Guzzi Tank and 'Breadbox' seat.
Tank with single filler cap: £550
Tank with twin filler caps: £500
Breadbox seat including base: £210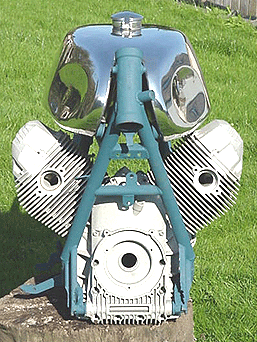 Daytona Guzzi Tank, 24 litre: £550
The difference between the long and short guzzi tanks
Long Classic Moto Guzzi, 24ltr: £550
The Moto Guzzi Kit includes:
Front mud guard: £100
Side panels: £90
Inner rear mud guard: £35
>This kit is for tarting up your Guzzi. The front mud guard can be made to suit the width of your forks and is for 18 inch wheel radius. The rear mud guard fits existing frame brackets. The side panels need a small 'L' bracket manufacturing but this is not beyond anyone with an electric drill and a vice.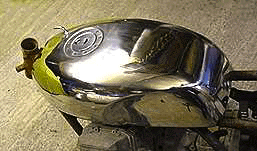 Moto Guzzi tank which I call the "BULLIT", 20 litre capacity. Aircraft or Monza filler cap fitted:£550
Moto Guzzi tank styled on the MV 3 cylinder Augusta. This was a one-off made for Simon Ferraris Dads MV. As you know, one-offs take considerably more time to make, so the price of this tank is: £550